Bella Vita Releases Worldwide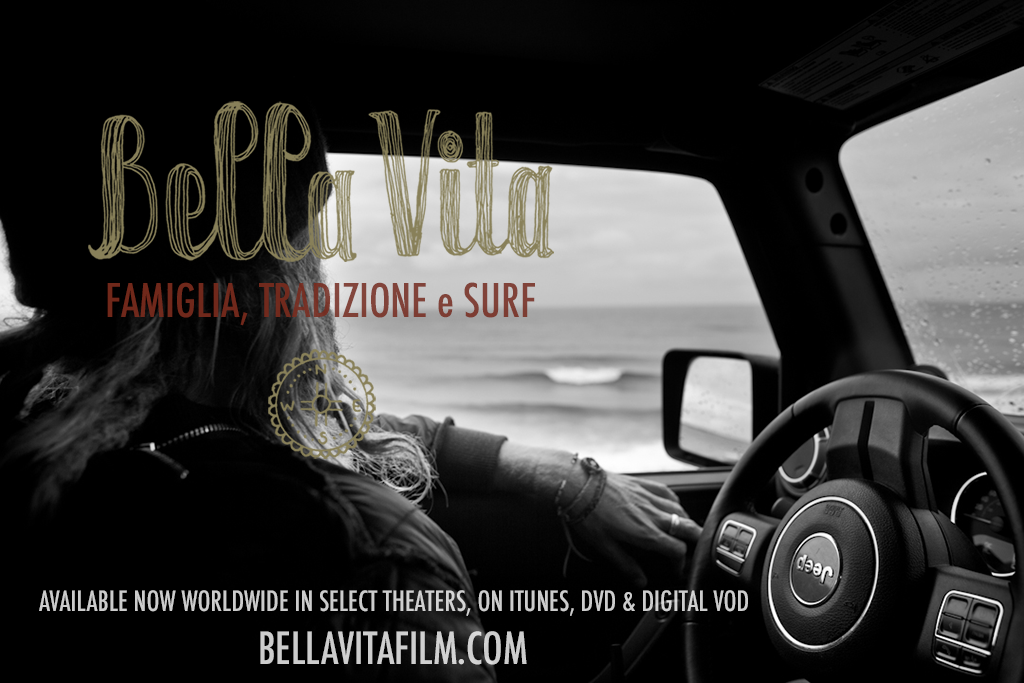 BELLA VITA RELEASES WORLDWIDE on DVD, iTunes, Digital VOD AND IN SELECT THEATERS VIA TUGG.COM
Los Angeles, CA (September 22, 2014) – After a whirlwind year of festival screenings worldwide including multiple audience, cinematography and best feature awards, Jason Baffa's Bella Vita releases worldwide today on DVD, iTunes, Digital VOD and in select theaters in the U.S. via the on-demand theatrical platform, TUGG.com.
Bella Vita (www.bellavitafilm.com) is Baffa's chronicle of Chris Del Moro's pilgrimage back to his ancestral Italian homeland with elite professional surfers Dave Rastovich, Lauren Lyndsey Hill, Conner & Parker Coffin and Italian stand-outs Alessandro Ponzanelli and Leonardo Fioravanti as they explore the burgeoning surf culture blossoming amongst the Mediterranean's oldest and cherished traditions.
"We've had an amazing international festival run," notes L.A. based filmmaker, Baffa, " I see it as a film about life as told through the eyes of these surfers traveling in Italy. I'm so honored how audiences throughout the world have embraced it's introspective themes and I'm excited to finally show it to the world."
"A stunning piece of visual art" as reviewed by the London Arts News, Bella Vita has screened at festivals in 8 countries, winning awards in the U.S., France, UK and Germany.
"The film has a lot of heart. I see it as a fantastic Italian meal, where course after course something is served up that is better than before," says renown free-surf professional and environmental activist Dave Rastovich.
Shot in 35mm and supported by its core community via a Kickstarter finishing campaign, the visually-stunning coming-of-age surf journey features Chris Del Moro tracing the roots of his Italian heritage in a tribute to the grandparents who raised him and on a hunt for the elusive waves that captured his imagination as a young boy.
Rollicking to a superb surf film style soundtrack including a track by Grammy Award Winning Artists, Mumford & Sons, the film explores the history of a passionate Italian surfing subculture in a reflective look at the ways this group has sustained its traditions in the face of globalization and hyper-commoditization by embracing time-tested methods focusing on sustainability and craftsmanship.
Staying true to its grass roots origins, the film is currently available in major U.S. theaters via TUGG.com, an on-demand theatrical distributor which, like Kickstarter, allows passionate film audiences to support and promote local screening events by pre-purchasing tickets toward an activation threshold.  Anyone can request and promote a screening within their immediate community and the film has seen a remarkable turnout among surf lifestyle enthusiasts and retail outlets sponsoring screenings around the country.  Visit www.bellavitafilm.com/see-film for info on local screenings and on how to host a screening.
Bella Vita's custom-designed collector's edition DVD release features an eight-panel package with postcards and artwork by Del Moro as well as commentary from Baffa and Del Moro, a companion "making-of" feature and English, Italian, Spanish and German subtitles.
Complimenting the film's roll-out, a series of "Filmmaker Edition" wines are in the works via Italian cast-member and wine-maker, Piergiorgio Castellani, under the Zio Baffa label.
Additionally, special edition publisher Arkitip has released a limited edition companion book, Arkitip #0059 - Bella Vita, with a selection of stills, interviews, sketches, backstory and artwork created by Del Moro. Each issue includes a custom Bella Vita Velcro-wallet thanks to the support of Quiksilver.
Filmmakers and Cast are available for interviews upon request. Photos and editorial assets are also available upon request.
For more information on Bella Vita and to view the film trailer, please visit
Media Contact: Greg Schultz / greg@haymakerprojects.com
DVD Distribution: James Ravenel / james@wearegrandview.com
Theatrical/Digital/TV: David Kennedy / dkennedy@goldcrestfilms.com